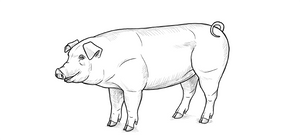 Reserve your whole hog for the next butchering. Current piggies are going to the butcher either end of December or Feb/Mar 2024.
Whole hog is $5/lb hanging weight + processing. Hanging weight is the weight after the guts/innards are removed. It does still include the bones/organs/fat so it is not entirely meat. Approximately 70% is meat, 20% fat and 10% bones/trimmings. Approx. 90% of the hanging weight is good edible items. We expect a hanging weight of at least 180lb. However, there will be some variability so feel free to specify if you would like a larger or smaller one.  Processing fees are charged directly by the butcher and these will be based on the size of the animal and the cuts/sausage/cured items you decide to have done. This is money directly passed onto the butcher.
A deposit will reserve your pig. 
We only have a limited number of pigs available for purchase as whole hogs. And as always, if you have any questions, please don't hesitate to ask.